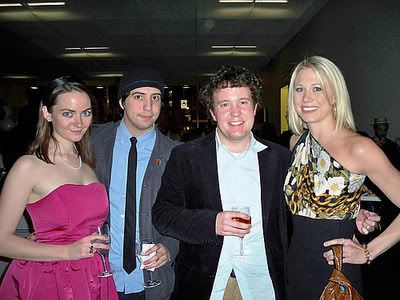 maryrambin:

Of course it's the bloggers I see upon arrival, right next to the bar :)

Left to Right: Caroline McCarthy of CNET as Julia Allison, James Del of Gawker (not a writer), Scott Last-nameless-to-me (also not a writer but employeed by Denton), Me.

Other notable people to show up: John Leguizamo, Ferm Mallis (the head of Fashion Week for IMG), a celeb I didn't recognize, and David Schwimmer.


US:
Way to kind of embarrass your "friend" by calling her out on borrowing Julia's dress and copying her hairstyle to boot. That was straight up tacky to call her out on.
* I wouldn't call a "celeb you didn't recognize" very notable.