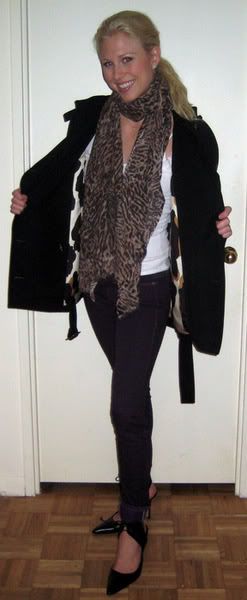 maryrambin:
Tonight I'm off to New York's Funniest Reporter stand up comedy contest at Gotham Comedy Club (208 W 23rd between 7th and 8th).
I was invited to participate a few months ago, but….I was scared!!! Stand up is NOT easy. Writing a cohesive set of jokes that actually makes people laugh, holy shit that's hard. Next year, I'm going for it. After a little guidance from a couple professionals and some practice, I think I could make you giggle. If not, I'll just strip. That is sure to get a laugh. HAHA.
(Side note: I used to date a comedian, I find them incredibly sexy. Kinda like a musician performing fetish I guess. If you can find one that's actually sexy, now that's a keeper. But most of them have to rely on their talents to get laid.)
Oh right, my Head to Toe:
Huit Huit scarf

Mossimo knit top with Yummie Tummie cami underneath

Purple Blank jeans from Intermix

Manolos (I considered booties, but these looked too good, despite the fact it's a Sunday)

And introducing one of my two new winter jackets, a YSL short hooded trench. A major find on the clearance rack this summer. It was a steal! Get accustomed to it, you'll be seeing it often.
US:
Another "head to toe" that's just GOT to go. This does NOT LOOK GOOD AT ALL. Do you own a mirror? For real. I'm down to pitch in towards one for you.