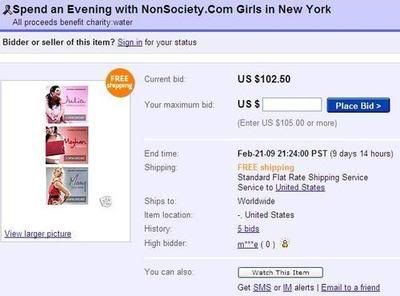 The girls decided to try to raise some money for a good cause: and this is a good thing! I won't hate on that…
What's funny to me is that when brainstorming ways to do that, they come up with a watered down version of whoring themselves. Just another day at the office.
maryrambin:
DONATE AND DATE!
To participate, the girls and I are attending the event and offering a night out on in the Big Apple. No, this is not a new ploy we've thought of to look for love. We would love to spend time with one of our generous readers (man or woman) who wants to spread their wealth to the world.
Click here to bid. We promise a night to remember! And if we raise over $500, I'll wear tutu. That should be a sight to see.
meghanasha:
If we raise over $1000, all three of us will wear tutus!
juliaallison:
And if we raise $2000, I'll kiss you on the mouth while wearing a tutu!! Woooooo. No tongue though. That's for $5000.