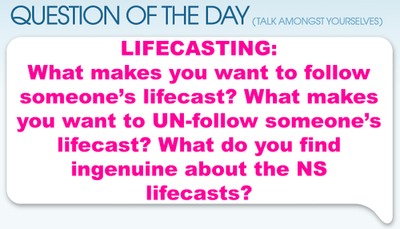 I've kept a journal since I was in the 3rd grade and I started my first website and online diary at 13. At that time I didn't even know what a "blog" was. I started my site after stumbling across a website run by a girl just a few years older than me. I was so impressed with how artistic and interesting her life was. She really motivated me to start my own page, and I've kept a blog and website ever since.
When I decide to follow a lifecast it has to be:
someone I can relate to
someone with similar artistic tastes and
their bog should inspire me, make me laugh and/or make me think
If I unfollow someone it's because they've said something racist (which beleive it or not has happened more than once) or I realize they don't meet the above requirements and they just aren't someone that I would like or enjoy in real life.
Franchesca Ramsey
designer. singer. comedian.
but not necessarily in that order.
http://www.franchesca.net