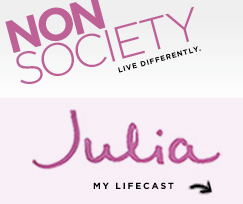 juliaallison:

WELCOME TO NONSOCIETY 1.5!! It's still a bit buggy (ie, the chat posts have been capitalizing every word for some strange reason, and we don't have the jumps perfect yet), so bear with us as we sort everything out over the next few days.

I'd like to give a big thank you to the people who made this happen: Shane Parrish, our uber-talented designer, MichaelAaron and the entire XenoPsi team, for doing a FANTASTIC job programming over the last few months, especially throughout the holidays, and of course, David Karp and the Tumblr team, who've been incredibly supportive of our endeavors. Thank you so much.

As for the new 1.5 (we call it that, because a lot of the features we wanted to integrate into 2.0 we found we couldn't afford. SOON!), let me go through them one by one. Hold on a minute …


US:
It's still horizontal, which I don't find very user friendly when instinctively we are used to scrolling down. A point you said you'd change, actually, a long time ago. And all the extra ads now? Eh.