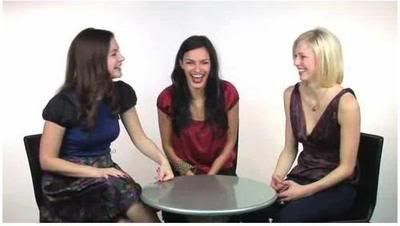 maryrambin:

Actually in this episode, we're all wearing at least one piece from The Limited. (Click here to see the Head to Toe) I love going to pick out clothes from their PR showroom. The pieces are so versatile.

If you're not familiar with the brand, go to the store first, see how the clothes fit you, then shop online. Unless you're buying tops, just know they are cut big, so feel awesome and choose a size smaller.

And finally, if I had boobs, my blouse would be f-ing sexy! Bet you never thought of The Limited as sexy. I've got more tips up my sleeve in 2009 :)

**Note: We are not sponsored by The Limited.


US:
There is a reason why no one shops there anymore. They do not cut their clothes to actually fit. Even if you get the right size. Julia's skirt is clipped, your top doesn't fit properly, and the $13 shirt that is on sale needs to be bought " a size smaller ". This is why The Limited has dropped to the bottom of the The Limited Inc. company in regard to profit. The Limited Inc. owns not only the Limited but Victoria's Secret, Bath & Body Works, Express, and others.
God it is ridiculous how little you actually know about fashion and the poor advice you dish out daily.