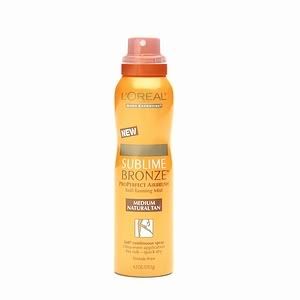 maryrambin:

SUNLESS SUN KISS

I'm sure you'll notice in February, a month after my vacay, my skin will still be bright and bronze. How am I defying nature this time, you ask?

Loreal Sublime Bronze ProPerfect Self-Tanning Mist (about $10 at the drugstore)

Ok, I know, I spout a "go green" and "be healthy" mantra, but I figure isn't this the lesser of two evils? No. It's not. Not even I buy that argument. But as a girl who grew up with the nickname Casper and only burnt to a crisp if ever exposed to the sun before the age of 20, have some sympathy and let me enjoy the tan for as long as I can.

Lucky for you, you can keep Sublime Bronze your little secret. Actually, if you spread the word, your friends will no doubt thank you for the tip. It goes on evenly and is CHEAP! I've tried a few - different brands, wipes, lotions, etc - and this is hands down the best. Here's the catch, you have to have a base tan for it to look natural. There's always a catch!


US:
The point of sunless tanning is to NOT expose yourself to the harmful cancer causing, sun damaging, aging effects of laying out.