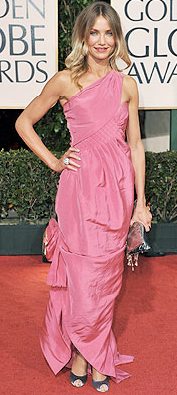 maryrambin:
The dress might be lovely, but can you see anything other than that scary face?
Again, she's such a pretty girl. Striking in fact. Why would someone do this to her?
It seems the stylists got together and decided they were going to show the world how much their choices actually influenced a celeb's style. Influence would be an understatement in terms of the Globes. They dominated these poor bitches.
US:
4 days late on blogging this event, Mary, why did you even bother? All of us have seen red carpet coverage ad nauseam by now, and I seriously doubt you will have anything hysterically snarky or intelligently insightful to add to what the best have already said and we have already heard.
* lol @ her choice of the word "scary"