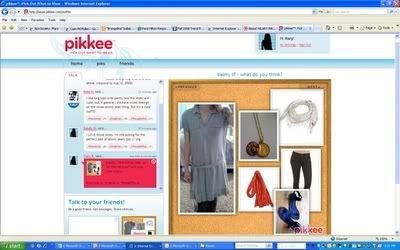 maryrambin:
Mandy just sent me a Pikee link to an outfit she is going to wear using the scarf I said I loved the other day.
What a great outfit! Although I think she needs a splash of color. So, in her Pikee closet, I found a red scarf and added it to the outfit to replace the neutral one. Now she and other friends can review my "remix" and comment.
Sure on an everyday outfit this isn't always necessary, but when you're creating an ensemble for a big meeting, event, date, etc, you'll love having your friends add their two cents before you walk out the door.
US:
See this is why I hate you. Really. It's kind of like this. Remember that scene in Mean Girls where the "Plastics" say to Katy "and you know how you would like NEVER buy a skirt without asking your friends if it looks good first?", and then she was like "um no?".
Ponder that for a minute, would ya?