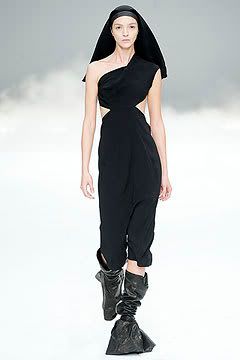 maryrambin:
Rick Owens (submitted by Christina)
Thorough analysis and hysterical conclusion of the garbage bag nun by Christina:
Asymmetry? Check. Wearable? Yes! Cut this baby off an inch above the knee, add a back slit, pull it in just a tad, and you've got a best seller. In fact, replace the head dress with one of Julia's head bands and a beehive bun and you've got something Audrey Hepburn-esque. Okay, she might need some pearls, too. And different shoes. Regardless… LBD, here she comes.
Love it or hate it, one thing is for sure: it's QUITE nonsociety. :)
US:

I really do think these replies are made up. Why are there no links to these people's Tumblr's? Lemme guess, ALL your entries came from OUTSIDE Tumblr because you "fashion blog" gets THAT many hits a day.

HAHA ok. Fake fake fake as The Hills.

"It's QUITE nonsociety"