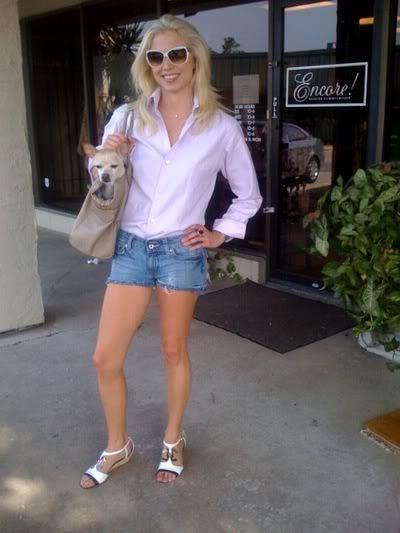 mollypool:
Welcome to the worst blog that ever existed, by the self-proclaimed style snob, yet terribly dressed Mary Rambin. One of the tumblelogs I follow linked to her, and I was immediately intrigued. In one of the first posts I read of hers, she talks about getting spotted. Don't you have to be well-known for that to happen?
In the loads of posts and bashes I read on Gawker, I pieced together this picture of her: she is a Texan, social climber, failed reality tv star, USC graduate, not very smart, not very pretty, and not very interesting. She designed one handbag, once, and now considers herself a handbag designer. Oh, also she gives really original fashion advice. She likes to post pictures of expensive shoes taken on her iPhone. That's doing wonders for the fashion world, Mary.
I still am not completely sure who she is or what she does. But I know she is lame and awful. And if she ever jumps off the C list and gets to where she wants to be, I'm sure it will be as one of the most hated celebrities.
Anyway, I feel a little silly posting this for a couple of reasons. First of all, I am embarrassed to be caught up in (wannabe) celebrity gossip. Second of all, I am dignifying her by sharing her blog with more people. I'm sure that for her, no press is bad press. I mean, she's gotta look at it that way, as it seems she may never actually receive good press.
If you're interesting in hating her as much as I do, here is a good intro to doing so. And if you want a really good fashion blog by someone well dressed, friendly, and so far from being an elitist, Jessica Schroeder is the way to go. Read on to find out what Mary has to say about this horrible outfit…
US:
LOVES IT
!