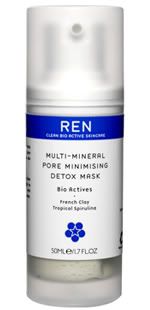 TEST DRIVE: DEXTOXING THE CHRISTMAS CHEER

The holidays are full of "good cheer" aka a lot of booze. So it might be smart to get your detox in order now so after you've put the pizza down you can reassemble yourself for the next party or the New Year.

One thing I've noticed is that my face doesn't bounce back the way it used to in college. After a night out, my eyes look tired and my skin seems to look almost heavy. My plan to combat a face pooped by the party:

Ren Multi-Mineral Pore Minimizing Detox Mask $34 (purchase here or at Sephora)
PeterThomasRoth Power K Eye Rescue $100 (purchase here or at Sephora)
Both were recommendedby readers who do PR for the products, but swear they are revolutionary. Ren seems really cool because it's "pure as it is potent," meaning it works without any nasty chemicals or synthetics.


US:

Someone who has her hair bleached out and her face and lips pumped with fillers shouldn't really bother pretending that chemicals or synthetics in products bother them.