I suppose entries like this one is what The Nutritionista was talking about… For those of you who are looking for truly healthy ideas from someone who doesn't get her tips from a Veterinarian, you should really check out her page. I dig it.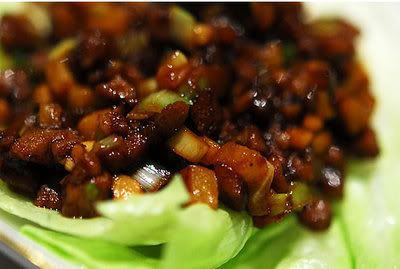 mascarah
:
Lettuce Wraps part deux.
maryrambin:
If you follow Sarah, you know she has been full on bragging about her recent gourmet feasts. I'm not sure where she finds the time to prepare all of this, but I'm jealous she doesn't mind cooking these intricate meals for herself. (To me the mess isn't worth it.)
She always posts a picture from online, not an actual shot of her dish or the recipe. Cheater cheater sarah! We want to see what you did and how it turned out. Although I'm sure her plates look and taste just as scrumptious as this one.
My point is, if you're a homegrown chef like our girl Sarah, we would love for you to share your recipes. Obviously since it's our site, the healthier the better. And of course pictures of YOUR dish are highly encouraged.
We will be chatting about some of our favorites tomorrow for a new episode of TMI. So send them in here!
nutritionista
:
Hmmm… Nutritionista says: this should be interesting. I wonder how they plan to sample the recipes when none of them eat solids? Or, at least not during the day. Mary only eats carbs and protein at night, when she can "digest them better." How can Mary claim to lead such a healthy lifestyle if cooking "isn't worth the mess." Don't be fooled, you guys, cooking doesn't have to be hard or messy, and it most certainly does NOT involve a juicer. But it is pretty crucial for your health. Oh, and would you take recipe advice from the girl whose fridge is stocked with nail polish instead of food?
Usually, NonSociety + food = eating disorder, so I'll be watching this episode of TMI closely (ugh, kill me) to set everyone straight in case they try to disseminate their anorexia.