Trainwrecks reposted an entry, you can view it on TW's page here:
http://trainwrecks.tumblr.com/post/78145368/juliaallison-front-row-at-bcbg-spot-the
I replied to TW's repost here:
http://theressomethingaboutmary.tumblr.com/post/78153318/trainwrecks-juliaallison-front-row-at-bcbg
I then get this email:

But she seemed so SUPPORTIVE in her IMs with me?? And remember, as long as it isn't PHYSICALLY hurting someone she doesn't care! That's why of course I got this email from her. In case it's hard to see:

Katrina Kay is her real name. We know each other personally, as in, I have her number saved in my phone, which she typed in, with the name "Katrina Kay."

Stop being so goddamn rude, though.

It's really obnoxious.
Wait, I'm the one being obnoxious? Rude? LMAO, well maybe but... again. Pot. Kettle. etc. Fuck, at least I admit it when I'm being a bitch. My reply: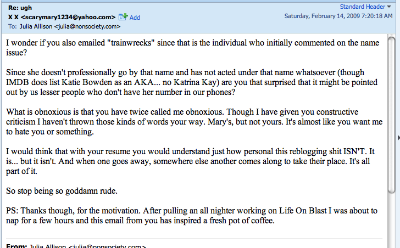 I wonder if you also emailed "trainwrecks" since that is the individual who initially commented on the name issue?

Since she doesn't professionally go by that name and has not acted under that name whatsoever (though IMDB does list Katie Bowden as an AKA... no Katrina Kay) are you that surprised that it might be pointed out by us lesser people who don't have her number in our phones?

What is obnoxious is that you have twice called me obnoxious. Though I have given you constructive criticism I haven't thrown those kinds of words your way. Mary's, but not yours. It's almost like you want me to hate you or something.

I would think that with your resume you would understand just how personal this reblogging shit ISN'T. It is... but it isn't. And when one goes away, somewhere else another comes along to take their place. It's all part of it.

So stop being so goddamn rude.

PS: Thanks though, for the motivation. After pulling an all nighter working on Life On Blast I was about to nap for a few hours and this email from you has inspired a fresh pot of coffee.