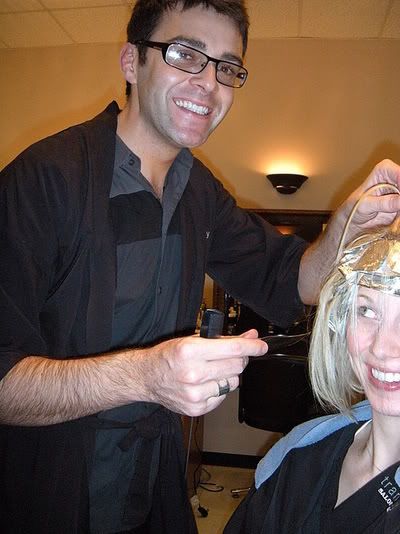 maryrambin:
Rafael to the Rescue!
The old adage is true: if it ain't broke, don't fix it. Last week you know I went to Julien Farrel to get highlights and a pedicure at the last minute. Despite the fact I explained explicitly to the colorist Mike I wanted a full head of very blonde highlights and yes I know that doesn't look natural, but that's what I want, he did what he wanted. AHHHH. When he was done with his hour-long French technique my hair looked streaky, splotchy, and not at all what I asked for. Serves me right.
Thank goodness Rafael is in Houston for the week to remedy my mistake. NO ONE does Texas blonde like Rafael. If you're a Houstonian and in need of a cut and color, I highly suggest making an appointment at Tranquility spa with my man….that is, if he has an opening. He's that good.
US:
You blog about people to get free services and then slam their work later. Your new haircut looks like shit, why does it seem like you are going above and beyond to transform yourself into a 45 year old divorcee?
Bimbo blonde is OVER, bitch.