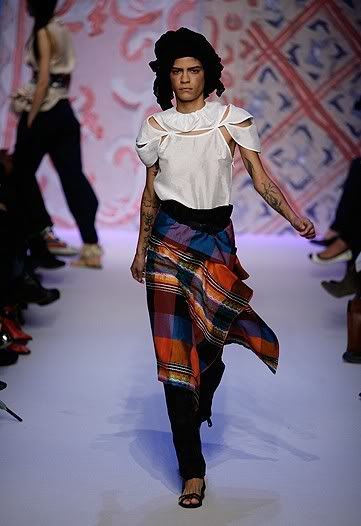 maryrambin:

THIRD RUNNER UP

Lisa with Tsumori Chisato

Honestly I wasn't going to have a third runner up, but she makes a great point.

Lisa:

This ensemble is from the Tsumori Chisato Ready-to-Wear Collection in Paris. The reason why this ensemble is so fierce? It crosses gender boundaries—I mean, this model is straight-up androgynous. The masculine face, the feminine arms, wearing a skirt, but also wearing pants. The model and the ensemble represent both the male and female in a time when gender and sexuality issues are so pertinent! Hopefully, this is a trend the world can start picking up on and accepting: gender ambiguity and accepting all people, despite their sexuality and gender (or non-gender!) :)


US:
You like THIS better than the Vivienne Westwood? Boy is THAT telling.
Style, by Mary. Hmph.
Hey has anyone told you that is wrong, comma placement? Drrrr.